Hyper realistic 3D rendering of the Spyker C8 Preliator

How CGI is Used to Create the images

The Brink Agency and Spyker Cars came together to create lifelike designs that capture the essence of the cars in unimaginable detail. While the initial project was commercial-based, the design team's passion took it a notch higher by creating exceptional 3D images with intricate details. The head of design, Simon Koop, and creative director, David Straka from monolot studio came up with the photos of Patrik Špalovský to push beyond the real-world parameters, resulting in perfect visuals that drive engagement.
Our goal is not just to design airplane-inspired super car images but to incorporate a dynamic feature to a point where only a specialist can tell the difference. We are not just about creating a fancy 3D wallpaper; we take it further by configuring it to add more elements, such as lighting, colors, shadows, and textures. While photos and videos show you specific angles of the supercar, 360-CGI enhances visualization and allows viewers to view the model from every angle in real-time.
The Creative Process
David Starka from monolot studio came together with the head of design at The Brink Agency to improve visual treatment and viewer-product interaction that can be presented to car brands. Unlike to a typical video recording or an image, CGI creates a digital scene in which anything and everything is possible. Combining the digital scene with actual photo or video material, merging it to create an endless stream of high-quality content. Although some of the images are photographed, we merge them with the 3d models to make a beautiful end result.
Spyker has defied all odds by breaking through the industry with unique models. Some of the models that inspired our creation are the likes of Spyker C8 Aileron, Spyker B6 Venator Spyder, and many others that exude brilliance and style. The bond between the two brands, Spyker and The Brink Agency, enhanced the creative direction of the CGI project.
There are numerous possibilities for designers and artists, which has allowed us to go above and beyond to bring out Spyker supercars in a new light. Bringing production cost down but actually not downgrading the production worth so it still resonates with a big audience not undermining the difference between computer generated or real photography. Car manufacturers and advertising agencies have more creative freedom than ever before, cause are to customize, change and interact with the product in a more elaborate and effective way. The shared love for cinematic photography of the legendary "The Batman," movie, the design team created multiple sets of images that leave a lasting impression and a unique experience that only art can do. "We wanted to place the car in a misty scene which keeps your attention for a few minutes. There is something going on with the shapes that are featured in the design, but you can't quite place your finger on it.''. Simon Koop said ''Adding emotion to explanatory pictures was the goal. A lot of automotive images are the same, it's a car driving in a city and they should because showing the features and shapes of the object is what you need to get it sold. We wanted to do something different, making it more like an art piece than just a car on a street.''.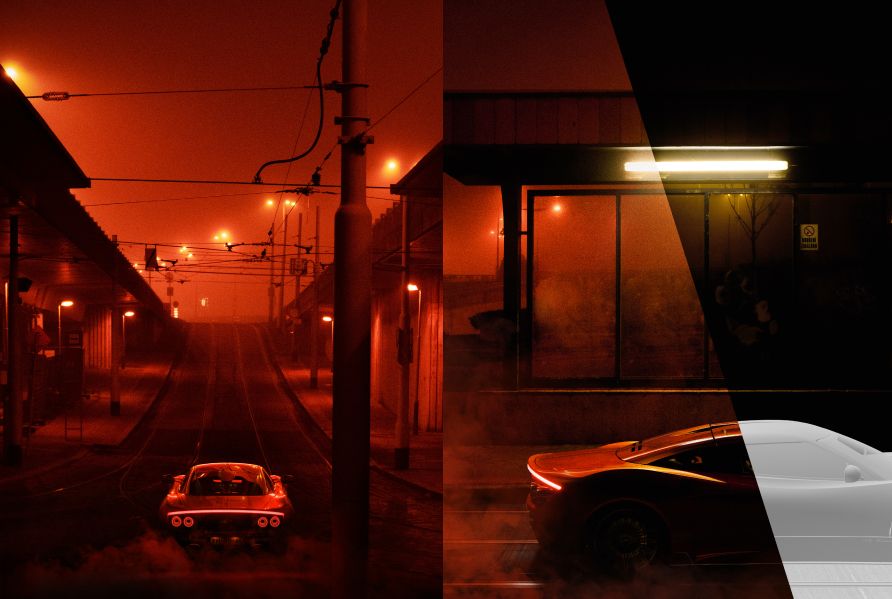 The Role of CGI in Improving any car advertisement

With recent technological advancements over the past decade, CGI has established itself across all media. The partnership of these two studios is a testament to the extent we are willing to go to improve 3d product presentation quality. By incorporating augmented software and techniques, we can design images that move viewers closer to photo-realism. Aside from the breathtaking Spyker cars designed by the Dutch design company, the relationship between the brands has blossomed into exciting realms that push the standard of production quality.
The relationship between CGI and automotive design is extrapolated through the Dutch design created by the Spyker and head of design Simon Koop. Without location for the shoot to be needed, this is vital in a highly competitive sector where designs are critical to successful campaigns.
Most industries rely on digital renders before the pre-production stage. Still, with CGI, our design team can visualize combinations, colors, and other features of various models that are only imaginable through digital renders. Car shoppers and enthusiasts trust what they see, and the quality and technology that goes into design allows us to tailor experiences based on the personality, aspirations, and lifestyle of the viewer in an emotionally engaging way.
With seamless, photorealistic CGI solutions, you do not need a physical prototype which has allowed us to advance to the point where the differences are indiscernible, and adjustments to improve quality can be made in tandem across all points of the product.
Virtual environments allow us to choose any space to feature various car models and capture the car from any angle while customizing it. It also allows swapping lighting, textures, and assets at will to create different feels. This has been a great tool in helping car brands access previous hidden insights and optimizes them using real-time CGI technology to deliver a higher level of customization, interactivity, and consumer engagement.

Conclusion

As CGI advances, it becomes almost impossible to separate real from fake (without debating on what's fake as some shots are not even possible to create in the real world). The amount of possibilities you have as a producer when the 3d model is of a certain quality is enormous, often 3d is mistaken as photography you end up with one picture but it's actually a whole realm of 3d, AR and VR application you are able to produce. Most leading car companies have switched to enjoying its benefits and the endless possibilities it holds for the industry itself and the new way of presenting a brand to a wide audience. Not to mention it's a less expensive alternative to filming or photoshoots on-location with a full team. With such a massive presence, it's impossible to separate CGI and the automobile industry. Take advantage of the technology and bring your car to life. Leverage our extensive experience and design expertise to recreate your design for advertising productions or 3d car configurators.
Get in touch to see our full automotive portfolio and what we can produce for you, Expend you digital imagination step into The Brink.

The Brink Agency Unveils Its Inspiring New Design Studio in Amsterdam
Near the vibrant Houthavens of Amsterdam, our renewed studio makes its debut on the Zekeringstraat 34C. Having opened its doors just over a month ago, this space reflects our prowess in design and technology and is a herald for innovative frontiers. Our new location near Sloterdijk ensures a hassle-free commute for our team and our clients, facilitating multiple parking spots in front of the main entry door.
Enhancing Workflow and Boosting Sales: The Power of AI-Powered Prompt Engineering for Content Creation
In the rapidly evolving digital landscape, content creation is a crucial aspect of any successful marketing strategy. Brands are constantly seeking innovative solutions to create unique, engaging content that resonates with their target audience. The introduction of AI-Powered Prompt Engineering offers a remarkable opportunity to streamline workflows, increase output, and ultimately, boost sales.
The "unlikely" usability of 3d in the fashion industry
If you're like most people, you've probably never thought about the fact that your favourite high-fashion brand might be using 3D technology to create their designs, use it in the marketing assets or get inspiration for next season. But the reality is that it's been happening for years now—and it's only going to get bigger.